With this free QR code generator tool, you can download QR codes in high quality printable and vector formats, without any registration. Befor printing, you should to know the right size, the right contrasting colors, and the way to get more scan.
Read these 6 tips before using and printing a QR code
A. The shorter QR code perform better, not by size.
The fewer characters you use, the easier it will be to scan the QR code. We do not recommend printing any smaller than 7mm x 7mm, the recommended QR code dimension is 32mm x 32 mm or 1.25 inch x 1.25 inch to print.

B. Keep color as dark as possible.
Good contrast (dark color) between the background and the QR Code color is very important when a standard Black and White code is not used. In cases of colorized QR codes, the QR Code should have a dark color with a light background color.
C. Logo and colors in a QR Code.
If you want to embed a logo in a QR code, always use the error correction level H - High, even use the same for colors and gradient. With that level around 30% of the QR code can be used for logo.
D. Mind the Zone around the QR Code.
Leave enough space around the QR Code. If the distance between the pixels of the QR Code and the adjacent graphic elements is too small, the QR code will hard to decode.
E. While placing QR code, avoid reflective surfaces.
Note especially that when a QR code is affixed behind a glass, reflection may occur, so that the camera can have problems when decoding the QR Code.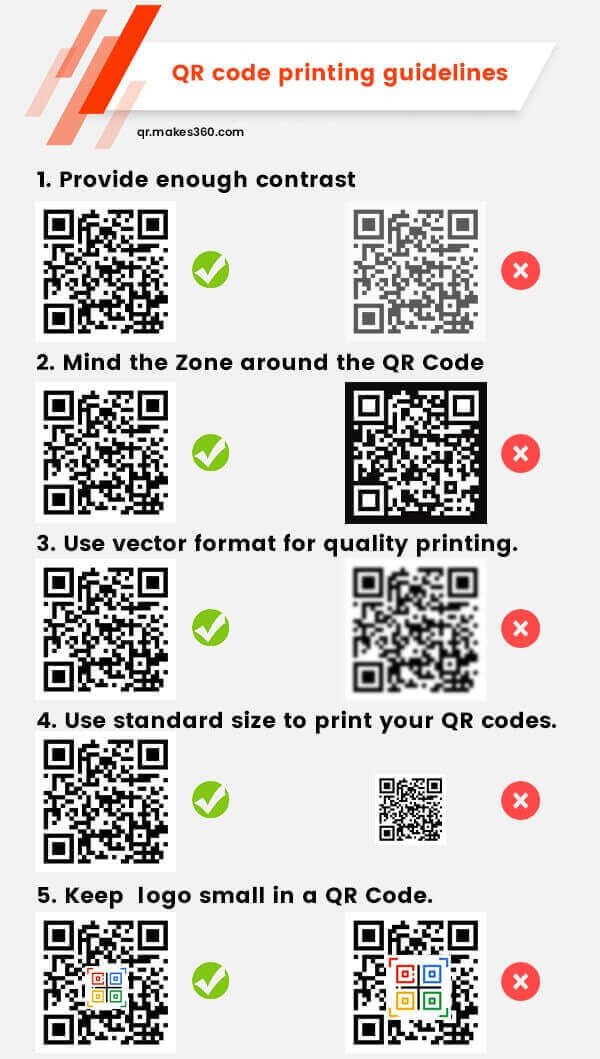 Conclusion: The above tips should help you to understand everything in order to print and use the QR codes. However, when in doubt, don't forget to test your QR codes!